The Island offers an extremely interesting, varied, and scenic walking experience. Our favourite walks vary from our local lanes and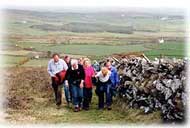 wetland area to up into the hills, to about 1500 feet, with different scenery and terrain, from coastal paths, quiet country lanes, beautiful glens and dramatic coastal scenery all in one walk.
Exploring the Island's footpaths on foot is ideal using the electric tram, steam train or bus, why not:- take an electric tram from Laxey to the top of Snaefell, the Island's highest mountain of about 2034 feet, and walk back to Laxey, passing the disused Snaefell mines and the famous Laxey wheel (about 4 miles), or take an electric tram from Ramsey to the top of Snaefell and walk back to Ramsey (about 7 miles) either on the Millennium Way or on the 'ridge walk'
via the top of North Barrule. There are wonderful views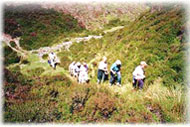 on these walks -especially on the 'ridge walk'.
Just a few suggestions to give you an idea of wonderful Island walking - or if you enjoy walking with a walking group, you may wish to join a 'club walk' which take place throughout the year. We will, of course, be delighted to share our own walking knowledge and experience with you!